Four years later and what a journey it's been for our founders and our growing team!! On this here sacred day in 2014, our three founders launched with a brilliant idea and a clear vision. 4 years, 3 warehouses and 20+ full-time employees later, we sat down with our fearless leaders to chat about themselves and the growth of the business.
HAPPY BIRTHDAY, BOXFOX!
CHELSEA //
How has your role as CEO of the company evolved over these past four years?
We started when I was 22 and I always shied away from screaming about my entrepreneurship from the mountaintops. After four years, I'm finally learning to own the title. That means embracing it with confidence when I'm networking, elevating my work ethic to surpass my previous capabilities, and learning as much about management as I can while we grow. Preparation leads to confidence and confidence brings better leadership.
When did you realize BOXFOX was the real deal?
100% when we moved out of Jenni and my apartment into our first warehouse. Working from home is overrated! This was one of the most exciting, legitimizing, moves we've made in the last 4 years. Looking back, our first warehouse was 2,000 square feet in the back of an aerospace warehouse with horrible lighting and a strange landlord, but it got us to where we needed to go. Now we're onto our 3rd warehouse and couldn't be happier.
What has been your 'secret sauce' to BOXFOX's brand?
I believe our secret sauce has three ingredients : awareness, competitiveness, and attention to detail.
What's your favorite quote?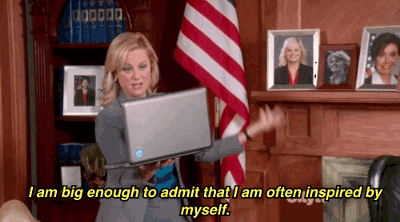 Complete the sentence, when I'm not at BOXFOX, you can find me ________.
Traveling, trying to cook, or sitting on the beach.
Biggest pet peeve?
Lack of awareness.
Your favorite brand right now?
I LOVE a lot of brands, but right now I'm so into Pinch Provisions. Talk about quality! This Chicago based company just turned 10, it's run by fantastic, innovative people and the branding is so clever, down to the last printed insert. A new favorite? Their Binge-Reading Kit.
What top 3 instagram accounts are you following right now?
I love following along with @alysiaalex, @jenatkin and @evachen212.
What's your favorite color palette?
Sunset colors! My entire room is done in peachy neutrals and accented in light blues, light pinks, and sherberty orange.
JENNI //
How has your role as COO of the company evolved over these past four years?
It's funny, I actually started as our CMO given my background in marketing and SEO. I'm the most comfortable with numbers and spreadsheets, so as we learned to play to our strengths, I started taking over operations. 4 years ago that meant hiding a secret stash of Sugarfina champagne bears in the kitchen because we always seemed to oversell this particular product. Today, we've built out our own unique inventory system that's compatible with our BUILD A BOXFOX platform, streamlined our fulfillment with efficiencies (my favorite word), and moved our company to a bigger & better warehouse in Hawthorne.
What moment did you realize BOXFOX was the real deal?
BOXFOX always felt real to me, but it set in when we were able to offer medical, vision, and dental benefits to our team. We started our company with our bare hands, just the three of us meeting on Monday nights. To grow our business to a place where we would be able to support ourselves and the livelihoods of our team was a major milestone. I'm so proud of this! 
Where can we find you when you're not at the Warehouse? 
At the gym, on a run, or walking Eleanor on the Strand! 
What's your favorite food? 
Caprese. What can I say, I'm Italian! 
TV, Movies, or Books?
Audiobooks and podcasts have become my new favorite because I can multitask. I'll listen while I'm getting ready in the morning or on a long run. 
Which do you prefer, beach or mountains?
I love both, but I have to say beach. I grew up in Half Moon Bay, so I've always had a connection and respect for the ocean. 
What's your favorite color palette?
I am so torn! I love bright, saturated primary colors just as much as I love subdued neutrals.  
What 3 instagrams are your favorite to follow right now?
@mamawatters - Mom and writer of Homesong, a blog I have been loving lately. She posts about her normal everyday rhythms at home raising her family in St. Louis. Everything she posts seems to speak to my soul! 
@plasticfreemermaid - This zero waste Aussie is full of tips & tricks to lead a plastic free lifestyle 
@accidentallywesanderson - Things I love: color, symmetry, and Wes Anderson movies. I am obsessed with the way this account highlights real life Wes Anderson moments. 
SABENA //
How has your role as CSO of the company evolved over these past four years?
When we first started BOXFOX, we wore every single hat. We all collaborated on everything, from our precurated collections (still do!) down to blogs posts, box samples, and even customer service conundrums. We had each other's backs and we were our own support system, which I think allowed us to feel free to make mistakes. 
What about running the Corporate side of BOXFOX is most exciting to you?
The best part about our B2B business is that our corporate clients come to us because they want to do something they've never done before. Whether it's a small business who wants to get buttoned up with polished gifts that will help them grow, a tech company who's always ready to push the envelope, or a legacy brand  that's looking to do something different than a popcorn tin or fruit basket. It's always a chance to bring the BOXFOX philosophy of meaningful, purposeful gifting to even our corporate clients. 
What's your favorite part about living in LA? 
LA is my dream place to live, truly. This is kind of a cop-out answer (because it's definitely more than one thing) but to me, it's the lifestyle. The incredible restaurants, the perfect weather, the unique neighborhoods. I think the underlying theme is balance—people want to go to amazing restaurants and enjoy delicious food and drinks on weekends, so they are really mindful about their choices during the week with both food and working out. And there are always a million new things to explore—I've been here for 10 years (!) and I still stumble upon corners of the city I've literally never been to. It's always changing and evolving so it doesn't ever get boring. I know it gets a bad reputation, but I think LA is the ideal place to live, once you figure out how to make it work for you. 
Favorite book? 
Ok, well I'm a not-so-secret bookworm (books > TV all day) and I'm always reading a million different books at any given time. But my recent favorite is A Place For Us by a young author (Fatima Farheen Mizra) who has such an incredibly poetic, beautiful writing style. It takes place in NorCal and is about a Middle Eastern family and I could just relate on so many levels. My other favorite is The Untethered Soul, for anyone wanting to get into spirituality. I've definitely gifted it to a bunch of people and their minds are always blown after they read it. It's lifechanging. 
What's your favorite clothing brand and beauty brand?  
Clothing is hands-down Aritizia. I can't leave that store without at least one shopping bag full of goods. They have the best basics—t-shirts, bodysuits, crop tops are my favorites—but then they always mix things up with on-trend colors, prints, and patterns. My favorite item is a black slouchy crepe silk blazer that I bought years ago and is still my go-to when I need to look polished but don't want to look corporate. LA's version of business casual.
Beauty-wise, NARS has a been a long-time favorite — I love their concealer, blush, bronzer, and lipsticks. I feel like they understand skin that's deeper or more nuanced (olive undertones like me!). For skincare, I love Herbivore Botanicals, one of the first brands who said yes when we reached out to partner four years ago. I love that they are a clean beauty brand that actually works (I swear by the Orchid Oil at night) and it's been incredible to watch their journey and see them grow (Sephora and Nordstrom, hello?!). They deserve it ALL, they're such good people who work really really hard. 
What do you think people's first impression of you is?
Easygoing, warm, welcoming (I hope!). I'm usually not the loudest one in the room, so I typically gravitate towards and connect with other people who have a more calm, chill vibe at first, and later, as I open up, I think I connect equally well with louder personalities (like my sister!). But I really make an effort to welcome people in new situations, something I've become more mindful of as we've grown BOXFOX and want to make sure we're fostering a positive work environment where everyone feels included. 
What's your favorite color palette?
Honestly, BOXFOX's colors (nude, white, and black) is my dream in terms of decor, branding, and life in general. Nude is perfect because it can be romantic or simply luxe; it's minimalist but never boring. And who doesn't love a classic pop of black? Those colors are indicative of my wardrobe 90% of the time (minus denim, which is a must). We designed our brand to be malleable and universal, which I think is the mark of the perfect color palette (just saying!) 
What 3 instagrams are your favorite to follow right now?
1) @thethirty because it has actionable tips for self-improvement that just don't feel daunting. I love their monthly #MyNextThirty challenges (this month is on Gratitude) and their #iAMaMorningPerson takeovers with wellness "influencers" getting ready for their days each morning. It's wellness for the Instagram age, which I'm such a fan of.
2) @overheardLA because they are just so on-point, it's scary. I've been told many things I say on a daily basis are worthy of ending up on that account — so I'm just waiting patiently for my 15 minutes of Insta-fame.
3) @thegoodquote because it's always such an infusion of positivity in my feed amongst the selfies and  vacation shots (which I also love, don't get me wrong!). I have a lot of their quotes bookmarked and they are a great way to reflect at the start or end of the day. 
CO-FOUNDERS //
How have you managed to maintain to keep your friendship separate from business over the past four years?
C: Boundaries, respect, and down time. I've lived with Jenni since college and (as much as we can!) we leave work at home. Although, we're pretty inspired to talk about what's going on at work over the kitchen table or while we cook.
J: BOXFOX has added such a deep, beautiful layer to my friendships with Chelsea and Sabena, just as much as our friendships have contributed to the way we work together. Nothing is separate at this point and that's not a bad thing. In fact, I think that's a sign that we truly are family. 
S: I don't think we've kept our friendship separate from business, but rather we've never allowed one to sacrifice the other. We're so lucky to have this company rooted in real love between us three cofounders, because I think that sentiment permeates through all aspects of the business, from how we treat our employees and vendors to the way we think about our customers and their relationships to the kind of culture we're building (one that celebrates everything, is all about community, and leaves room for learning from our mistakes). 
More than anything, we've learned not to take things personally. When we're in the heat of debating a new product to carry or talking about a management issue, we always lead with "I love you but…" or something to that affect. We reinforce that we care about each other, but we know that business is business. And we always make time for friendship too. 
What has been the most rewarding part of this journey so far for each of you?
C: Working hard at work worth doing. I think that's a Teddy Roosevelt quote by way of Parks and Rec, but it's so true. I love waking up everyday and working for myself, our team, and the company we're building. I love promoting great brands and I love building a company culture from scratch.
J: I love that our boxes, in their own small way, can help make the world a little happier and a little brighter. Yes the products are fun and the boxes are beautiful, but it all comes back to relationships. Our boxes connect people. They send birthday wishes, good tidings, hugs, laughter, and heartfelt reminders of love between people. I like to think that a little bit can go a long way.
S: For me, it's definitely been seeing our service evolve organically and become such an integral part of customer's lives. When we started, of course we thought this was a great idea, something our friends and family would certainly use to make their lives easier. But to see the idea of "being there for some when you can't physically be there" come to life in so many beautiful ways, from mourning the loss of a parent to celebrating an engagement across the world to being the perfect way to wish someone a happy 21st birthday—this concept has taken on a life of its own thanks to our customers. We always say, that if we're ever having a bad day, we just read through the order notes from that day, and it's impossible not to have a restored faith in the world and human nature. Relationships are beautiful, and the fact that we have some small part in making them stronger makes this journey more than worth it, even during the challenging times. 
What is one dream that you'd love to see happen for BOXFOX in the next four years?

C: I want to keep building up our company culture and benefits in new, exciting, and fulfilling ways. I want us to set standards when it comes to paid parental leave, mentorship and outreach within our community, and what it means to work in a warehouse.
J: We do an amazing job now, but I'd love to reduce waste in our warehouse so that BOXFOX can be as environmentally friendly as possible. I'll keep up my recycling crusades with any new hires, but there is always room for improvement. As a brand, we need to be conscious in the way that we use our purchasing power to support eco-friendly packaging and products so that we can guide our customers to follow suit. 
S: Manufacturing our own line of products, hands-down. In our four years in gifting, we know the holes in the market and we know where we can create products that are better than what's on the market for cheaper than what's being sold. It's always our goal to make products more accessible, to make gifting an everyday practice, not just something we save for the special occasions. A BOXFOX product line would be an incredible way for us to bring our brand to more people in new and different ways.